Le Chevrefeuille award winning guesthouse, offers unique regional cookery courses and market tours in the Dordogne all year around
Come join us on one of our cookery course experiences in the Dordogne, tasting and learning of the regional ingredients and the passion and care of the local producers followed by a fun session in the kitchen making the dishes.
Traditional Dordogne Market Tour
Have you ever wondered what some of the local ingredients are and how to make the best of them, then why not join on the market visit guided by our resident chef Ian where the regional specialities are explained by Ian and by the local market stall holders on their products.
The Chef at Le Chevrefeuille
Ian, owner and resident chef at Le Chèvrefeuille, would love to share his love and passion of the region. Ian trained as a chef at Le Talbooth, Essex, England and has a passion for food which drove his decision to settle his family in the Dordogne.
learn how to select the best ingredients, prepare and cook local and traditional perigordian dishes in a hands-on, friendly environment.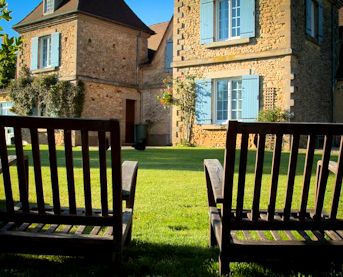 Le Chevrefeuille Accommodation
Whilst on our cookery course, why not book into our award winning accommodation. Our guesthouse, Le Chevrefeuille, offers a mixture of bed and breakfast and self catering accommodation which has achieved the certificate of excellence five years running with Trip Advisor.
Ian and Sara were the perfect hosts for our day of cooking school. From the visit to the local market to preparing and eating our mouth watering food the day was well beyond our expectations. Ian is a natural teacher and was keen to pass on the knowledge gained as a chef.
We both left left with that warm feeling of having experienced a great day.
Many thanks – Lynn and Peter, Melbourne Australia
Doing the cooking course with Ian was one of the highlights of my stay in The Dordogne. Ian is a natural teacher and he knows how to cook as well. Would recommend this to anyone.
It was our first full day in the Dordogne region and the 6 of us, 3 couples, arrived a few minutes before our scheduled time. Ian greeted us with warm, open arms and a big smile and lead us into his home for coffee and breakfast. In corresponding with Sarah, Ian's wife, she suggested we come on a Sunday as we could join Ian at the local market. We were thrilled our schedule allowed us this opportunity. Ian taught us how to look for the freshest local specialties. The sights, smells, sounds and interactions at the market were extra bonuses. Upon returning from the market, we started cooking our 5 courses. Ian was organized and knew exactly the order in which we should start preparing each course so it would be ready at just the right time. All 6 of us participated in preparing and plating each course at the same time. Ian showed us helpful cooking hints all afternoon. instead of sitting down to a lovely and delicious 5 course meal, Ian's experience suggested that we eat a course in their lovely outdoor dining area followed by finishing the preparation of the next course and eating it. This continued all afternoon. This was my first cooking school experience and it far exceeded my expectation. I can't wait to try all the recipes that Sarah shared with us.