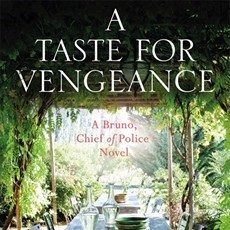 What do an award-winning author, our cookery school and the Dordogne all have in common? Well, you'll just have to read Martin Walker's newest novel 'A Taste for Vengeance' and find out! If you haven't heard of the Bruno series, you're missing out. Martin Walker, touted as an Ambassador for the Dordogne, fell in love with the region back in the 1990s and started writing crime novels which are set in the area.
More about Martin Walker
Martin Walker worked for many years as a foreign correspondent for the Guardian as well as editor-in-chief of United Press International. Drawn to the wonderful Perigordine gastronomy, wine and history, Martin splits his time between his home in the Dordogne and in Washington DC. Inspired by the Perigord, he published the first of the Bruno series in 2009 with Death in the Dordogne: Bruno, Chief of Police.
Bruno, the protagonist of his stories, is actually inspired by a true person – his friend, tennis partner and of course, local village chief of police. The books have now been translated into 15 languages and draw many visitors worldwide who are keen to hunt down Bruno's haunts!
Inspiration for 'A Taste for Vengeance'
His latest book, Taste for Vengeance, is due out in June and is the 12th in the series of Bruno crime novels. The plot involves Bruno – the local chief of police – helping his friend, Pamela, to teach some classes at her new cookery school in English. A participant in the course goes missing, is eventually found dead and a murder hunt ensues. You'll have to buy the book to find out how the story unfolds!
Can you guess where Martin Walker carried out his research for his latest book? You've guessed it! Our award-winning cookery school served as the basis for much of his research. Don't worry though, you're in safe hands at CookDordogne – no murder mysteries here!
https://www.cookerycoursedordogne.com/wp-content/uploads/2018/02/taste-of-vengence.jpg
230
230
sara
https://www.cookerycoursedordogne.com/wp-content/uploads/2018/01/CookDordogne-at-Le-Chevrefeuille-e1517758184272.jpg
sara
2018-09-09 09:25:11
2018-09-09 10:30:52
Martin Walker - A Taste for Vengeance