Dordogne, Aquitaine, France
BY KAREN YATES ON FEBRUARY 25, 2016 TRAVEL
Boasting more than 1500 castles, not for nothing is it known as 'The Other Chateaux Country', Karen Yates dives into history (and charcuterie and wine and caves) as she treads in Eleanor's illustrious footsteps. Step forward, Karen of Aquitaine…
It began, like most good cookery classes, in a market. And as we were in the market town of St Cyprien in the Dordogne, this was to be a seriously foodie affair. Before deciding what to buy for our class, our host Ian Fisk first wanted to show us the diversity of local produce, especially now, in the third week of September, at the height of the harvests and just days before the grapes were to be picked from the surrounding vineyards. Glossy vegetables, from red and yellow tomatoes to pumpkins, squashes, green and yellow courgettes, raspberries, figs and much more were piled neatly onto tables groaning under their weight. Mushrooms were having a moment, too – morels and ceps were plenteous; this was just before the truffle season and high demand meant prices were expected to reach €500 a kilo.
On to meat and the choice of sausages from just one supplier included pork mixed with duck, venison, wild boar, blue cheese, hazelnuts, figs, walnuts, ceps, peppers and pimento. Another producer had arranged his stock of plucked quails, pigeons, poussins, older chickens for roasting or coq au vin and skinned rabbits in size order. If, unlike me, you like foie gras, this area will be heaven to you. If like me, you are not a fan for both ethical and taste reasons, you might want to look away now, because along with superb wines, the area specialises in fatty liver – and how. So fatty, in fact, that the stall with the birds also displayed fatty livers for frying. Enormous, roughly the size of the quails, yellow and, as Ian explained, never to be eaten raw. Plenty of stalls specialised in foie gras – at least it's true to say that apart from the bill every part of the duck or goose was used. Jar after jar and tin after tin of foie gras, duck breast and legs prepared every which way were being snapped up by local people who couldn't get enough of the stuff. We saw it on every menu, even served with burgers. One foie gras producer invited me to visit her farm and help "stuff the duck". Needless to say, I passed.

The region isn't known for its cheese, but Ian recommended walnut Trappe cheese, made by monks, with an edible brown rind, which I bought to take home, and goats' cheese for our class – we chose crotins that were one and eight days old direct from the farmer. Jars of honey included acacia, chestnut and sunflower, and this was the time for just-bottled homemade vin de noix, made from fresh walnuts grown along the Dordogne river and in the hills of the region. This fortified wine tastes a bit like port with nutty notes, and like port it keeps a long time. Homemade walnut and chestnut tarts were also available to buy.
After selecting our produce, we drove to nearby Le Chèvrefeuille COOKDORDOGNE cookery school, where Ian, who trained at Le Talbooth on the Suffolk-Essex border, and his wife Sara have a Perigordine farmhouse with 13 bedrooms including five guestrooms, plus outbuildings with two gites for rent. Throughout the summer, Ian cooks evening meals for guests and runs a cookery school in the day. Ours began with everyone given a job and Ian showed the patience of a saint as we chopped olives and mushrooms, diced chilled butter, cut out pastry, prepped green beans, whisked melted chocolate and cream, over all of which he waved a cheffy wand and a form of food alchemy was created.
Before we knew it, lunch was served in the sunny garden and comprised a tapenade, the most intense mushroom velouté made from ceps and a real stock; a salad of tomato, avocado, wild rocket, buffalo mozzarella and smoked duck with heaps of homegrown fresh basil; goats' cheese tarts served with rocket, poached figs and sliced almonds with a balsamic dressing; and dark chocolate fondant puddings with a foolproof melting interior, an intense strawberry coulis and fresh cream. All served, as everything in these parts seems to be, with a few bottles of Bergerac.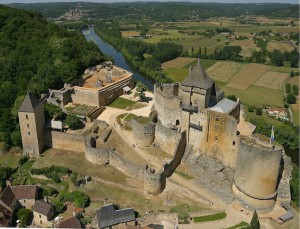 It may not have escaped the alert reader's attention that Ian and Sara are English, and on our travels we met a fair few British people with successful businesses here. Part of the reason Brits move to the Dordogne, along with the natural beauty of the landscape and the great quality of life is history. With this in mind we drove for just 10 minutes to Château de Castelnaud, which was owned at different times during the Hundred Years' War by British lords and is perched on the top of a hill like something from The Lord of the Rings, with magnificent views of the river and surrounding countryside. The castle was renovated in 2005 and has a museum of medieval warfare, filled with gruesome weapons that make you glad you weren't around in the 13th century, together with suits of armour, a blacksmith's workshop and a kitchen – perhaps the only one in the area without foie gras……………………………….
To read the full article please click on the following link http://www.arbuturian.com/travel/travelfeatures/aquitaine
Learn more about the cooking classes and accommodation at www.cookdordogne.com
Direct flights from London go to Bordeaux and Bergerac.
https://www.cookerycoursedordogne.com/wp-content/uploads/2016/04/Screenshot-2016-04-07-17.15.14.png
589
1250
sara
https://www.cookerycoursedordogne.com/wp-content/uploads/2018/01/CookDordogne-at-Le-Chevrefeuille-e1517758184272.jpg
sara
2016-04-08 13:37:37
2017-12-14 10:08:41
COOKDORDOGNE Cookery course - Arbuturian